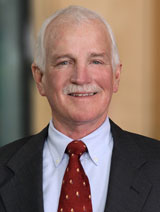 Jim is experienced in all aspects of patents, trademarks, copyrights, and related litigation. In particular, he has extensive experience in resolving IP disputes and in managing trademark portfolios, among numerous other areas. Jim's current practice is focused on patent and trademark prosecution, client counseling, dispute resolution, and related litigation counseling. He oversees several worldwide portfolios of patents and trademarks for clients and is active in obtaining protection of IP in numerous foreign countries.
After spending 4 years with boutique IP firms and 2 years with a general practice firm, Jim started his own boutique firm in 1990, which, through several iterations evolved into Thomas, Kayden, Horstemeyer & Risley, LLP. He served there for over 16 years.
Education
Indiana University, J.D., 1982
Indiana University, A.B. Bio Sciences, 1977 (with honors)
Jim was admitted to the Indiana Bar in 1982 and the Georgia Bar in 1987. He is also registered to practice before U.S. Patent and Trademark Office.
Jim is a member of the State Bars of Georgia and Indiana, as well as the Cobb County and American Bar Associations. He is also active in INTA, served on the APLF/AIPF Board of Directors for many years, and served as President of the APLF from 2004-2006, overseeing the expansion of the APLF to include firms from around the world.
Occasionally, attorneys who work with us are retained by others for services that are beyond the scope of services provided by McClure, Qualey & Rodack, LLP.  These out-of-scope services are not done under the direction, cooperation, or control of McClure, Qualey & Rodack, LLP.